#3 San Antonio Spurs vs. #6 Denver Nuggets
The Denver Nuggets should be one of my favorite teams. They have three of my favorite offensive players in Carmelo Anthony, Allen Iverson, and J.R. Smith (I said "my favorite" not "good"). There's a solid interior with Nene and a healty Marcus Camby who played 70 games (if you're keeping score, equal to three of his Knicks seasons). They also have an x-factor in Steve Blake, my step-father's Vince's top MVP candidate. Vin's also a big Troy Murphy fan, so if you know any Hickory High type schools in Indiana looking for an AD drop me a line.
With Anthony and Iverson seemingly starting to click, the Nuggets went 10-1 in April scoring a scorching 108.4ppg. They have been less a basketball team and more a Ferrari Enzo of offense, speeding down the stretch of the season with
George Karl playing the part of coked-up maniac Eddie Griffin
at the wheel. Unfortunately, and stop me if you see this one coming, the San Antonio Spurs are the big brick wall of fundamentals waiting for them at the end of the road.
Very few teams have every parlayed the wild, run and gun, fast break, defenders streaking around swiping balls and blocking shots routine into a playoff series win against a well-disciplined machine like the Spurs. Tim Duncan is playing his best ball in years, shooting .546 from the field, even exercising his dominance of various non-player personnel (I hear this week in practice alone he's had three janitors, two cheerleaders, and seven concessions workers thrown out).
And the Spurs play offense just as polished and consistently as they do defense. Whereas a comparison between the offense and defense of the Denver Nuggets is like comparing apples and steaming piles of shit, respectively. Apart from Camby's ability to alter shots inside, the Nuggets defense is easier to break down than Kenyon Martin's (insert joint here). The Spurs still have the perimeter players and shooters to pick the Nuggets' defense apart.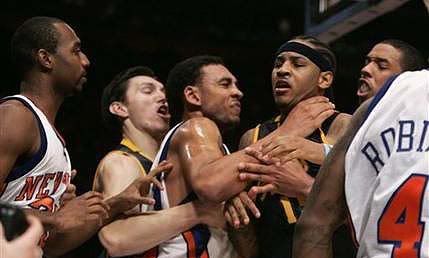 Pick
: The Nuggets may steal one on the back of an offensive explosion from AI or the only man to ever run away from Nate Robinson while not laughing hysterically, but that's it.
Spurs in 5
.