#2 Cleveland Cavaliers vs. #7 Washington Wizards
One of a few rematchs of great series from the 2006 playoffs. Who can forget Gilbert Arenas banging home tape measure threes to keep the Wizards alive? Who doesn't remember Lebron James' taunts before Gilbert's crucial free throws in the waning moments of the series? Well hold on tight to those memories, because this series is gonna stink.
Everyone's read about
Caron Butler's hope to be ready
to go for the second round. I'm sorry to be the bearer of bad news, but there isn't going to be a second round for the Wizards. Like they say, "don't hit the messenger in the jaw with your heavily tattooed, but brittle, hand." Caron shouldn't feel responsible though, because even if he had been ready for the first round it would have most likely been a long shot that they advanced without Arenas anyway. He's far too integral a piece on this team, averaging 28.4ppg, for them to realistically hope to advance against the Cavs. They're just lucky he hurt himself on Wednesday April 4 rather than Sunday Feb 18th, which will forever be remember as the day Gilbert went between his legs off a trampoline (as well as the day I didn't get out of bed in my Las Vegas hotel room). Otherwise, the Wizards probably wouldn't be here at all.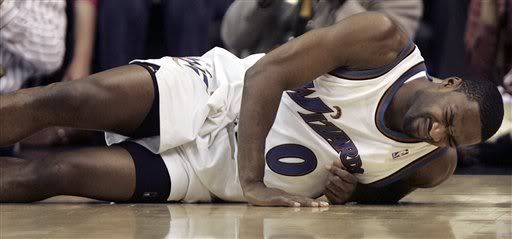 That said, even with Antawn Jamison at the helm, I think the Wizards could take a game or two from the Cavs. They've got a great home record (mostly due to the fact that Arenas tends to go off at home, but I'm throwing bones here) and the Cavs come in with with 21 of their 32 losses coming on the road. The Verizon Center will definitely be rocking with the Wizards as huge underdogs, and King James seems pretty content this year to let a couple games get away here and there.
Pick: With the Wizards as plucky underdogs and Lebron(and those other clowns) planning to waltz their way to the Conference Finals, the Wizards take two: Cavs in 6.