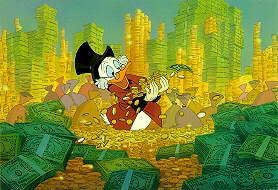 Frequently our friend, Mr. "Try and make it stick", the Teflon Don will take a look at various numbers and match-ups that have absolutely nothing to do with the illegal, shady, and often knife-fight filled world of back alley gambling.
Tuesdays Numbers

New Jersey +5 @ Toronto o/u 194

Chicago -4 @ Miami o/u 184



Los

Angeles

+9 @ Phoenix o/u 207

Here is the problem with the state of the NBA today. Through an entire regular season, we still have no idea if the Raptors are good or just the product of a crummy division. There really is no shred of evidence about how they will react after being punched in the nose in Game 1.
Saturday, Vince Carter was terrible and still the game really was never in doubt following a Nets run in the second quarter. Jason Kidd and Richard Jefferson put on a show and demonstrated few signs that they would be slowing down tonight. And the Raptors
ultimately
looked like a team
surprised
to be playing in a game that meant something.
Well with that said the Raptors are still giving 5 points. Take a look at the Chicago/Miami series. The line has swung 8 points following the Bulls win in Game 1. The Raptors have actually gone up a half point. This tells me one thing, the Nets are a bad bet.
Thus the pick for Today is
TORONTO
. I know its difficult to trust c
anadians
with your money. You
don't
know what kind of return you will get and all that, but trust ME its the right thing to do. Honestly if you can't trust The Don, who can you trust.
One other note about
tonight's
game. Raptors fans are rabid. I
don't
know if its because they are thrilled to be watching a sporting event and be warm at the same time, but whatever the reason they love the Raptors. Which is saying
something
when you consider how bad they have been over the past few years. I think they will play a big role in
tonight's
game, not wanting to see the Raps headed to the
Meadowlands
down 2.
In addition to Toronto, I'll throw out the
Los
Angeles
/Phoenix over of 207. I know they came up 40 points short of the over on Saturday. I also know the
Lakers
are dedicated to playing D as it is there only hope. However, the the two teams could not miss more open shots than they did on Sunday. Its not possible. Look at the shot chart. I like the over, and while I'm not throwing my
leadpipe
lock on it, Id encourage taking some of yesterdays winnings and turning them over. If you are really feeling wild, I
wouldn't
argue with you if you told me about a 4 pt teaser of Suns/Over.