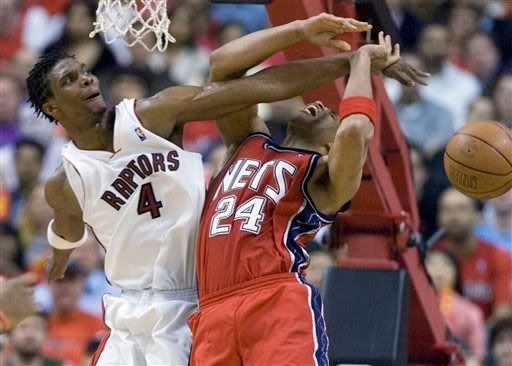 Between finals, work, and doing these updates everyday, I'm getting dangerously close to
Winnebago Man(NSFW)
territory.
Toronto Raptors 89, New Jersey Nets 83
Anthony Parker led the Dinos in points with 26, but Chris Bosh(25 and 13) took over the game in that intangible way that a superstar has to during the playoffs. Time and again when the Raptors needed a bucket to stifle a Nets run, Bosh was there to bull his way to the hoop, get the bucket and the foul, and make his free throws. Looks like he may have finally realized that no one on the Nets front line can hang with him. On the other side of the ball, Jason Kidd managed 7 assists, even with his two finishers Carter and Jefferson going a combined 12-40. Maybe Vince didn't even want to give the Toronto fans a show??? As far as predicitons for the rest of the series go, I think
Henry from TrueHoop
says it best: "Honestly, I have no idea. Sure is fun to watch, though."
Chicago Bulls 107, Miami Heat 89
Ben Gordon kept the Bulls on track for most of the game before Barkley's boy Leon Doing turned it on and put this game out of reach. In the post-game press conference, Pat Riley compared Deng to Cedric Ceballos(???),
then wet himeself and got beat up
by a fellow inmate. The Heat didn't play a particulary bad game offensively, I'm sure they would love to get 11pts each from Posey, Walker, and Kapono every night. But on defense, they gave up way to many easy looks and couldn't match up on Deng. This led to the Bulls shooting .551 from the floor and a blistering .647 from three. It'll be inteteresting to see where this series goes when they get back to Miami. Personally, I've got no faith in them.
Phoenix Suns 126, LA Lakers 98
If Anchorman had come out last weekend, I would definitely drop the "That really escalated quickly" joke right here. The Suns played their game in the way they do sometimes, almost literally scoring at will. TNT's Doug collins put it best when he noted that it really looked like the Suns were playing 6 on 5 against the Lakers. If the Lakers are going to let the Suns play their style of basketball AND let them shoot .543 they might be lucky that Phoenix only put up 126. If you didn't see this game, there is very little that can describe how easy it was for the Suns to score; if there wasn't a man wide open in the corner for three, Nash would set up a quick pick and roll with the nearest player and get an easy dish for a lay-up. That simple. A complete blow out and the Lakers look to be in big trouble.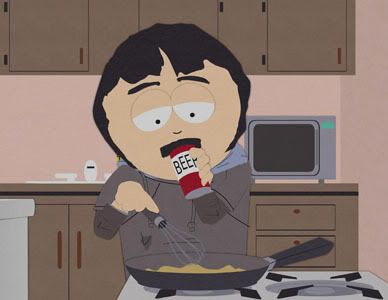 The Best Of (South Park Edition)
Eric Cartman
: Gotta give it to Leon Doing once again. 26pts, 5 reb, 6ast, 2blk, 1stl. Yea, Riley was right, thats definitely a Ceballos-like line.
Randy Marsh
: Chris Bosh played 45 minutes, got 25 and 13, and controlled the game for the Raptors in big spots.
Kyle's Mom
: Eddie Jones. If you're going to be a defensive liability, at least try to get some offense. Went 1-3 in 17 minutes. Look for
Ira Winderman's
head to explode if he gets the start in game 3.
Chuck's Quote of the Night
: "Kwame Brown dropped more pases this weekend than T.O."