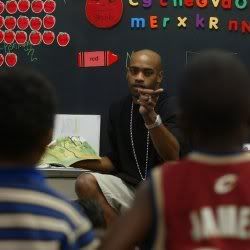 #3 Toronto Raptors vs. #6 New Jersey Nets
As you can see in the attached picture, way back a prophetic Vince Carter told a ten year-old Lebron James that he would see him in the second round of the 2007 playoffs. But even Vince
couldn't have foreseen the grudge match he'd get in the first round. At the end of the Net's final regular season game when this match-up was solidified, Vince was asked about any bad blood
between him and the Toronto Raptors and categorically denied any on his part. However, it looks like
Dave D'Alessandro of the Newark Star-Ledger
blew up his spot (with some help from Nets 16th man Antoine Wright):
A bunch of guys said yesterday that(the match-up with the Raptors) is precisely what he wants (Antoine: "He's up for it. I don't think there's any doubt about it. He wants it")
Given Vince's supposed knack for turning it on/off, is it any surprise he's registered three triple-doubles since Gilbert Arenas went down and the likelihood of catching the Wizards increased? It would seem that if anyone is going to show up (paging Richard Jefferson), it's going to be Vince.
But even with Jefferson shooting a combined 24 for 69 (.348 !!!!!) over the last five games, the offense won't be the big issue. The loss of Nenad Kristic, their only real interior defensive presence, hit this team HARD on the defensive end. For the 2005-6 regular season they allowed a fairly stingy 92.4ppg . This year, the average is up to 98.3. This could pose a significant problem against a Toronto team that ranked 5th in the East in ppg.
The other problem the Nets face on defense is CB4, or as I refer to him, Chris FUCKING Bosh. This guy is an animal(no Imus) and gets traditional big-man numbers (22.6, 10.7, 1.3 blocks). But he is an athletic, lengthy guy who plays away from the basket as well. Just like the guy who would be guarding him, Kristic. Instead, the Nets with be forced to go with the Twenty-Four Foul Special of Jason Collins, Josh Boone, Mikki Moore, and Clifford the Big Red Dog. And even then, they're looking at a 78% free-throw shooter in Bosh. Ouch.
Pick
: Cb4 gives the Nets the sweat from his balls in 7.